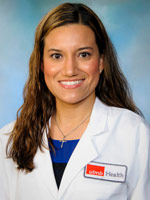 Roxanna Sanchez, MSN, APRN, FNP-C
Roxanna Sanchez began her nursing career with her Bachelor's of Science in Nursing from the University of Texas Medical Branch (UTMB) graduating in 2008. Upon graduation, Roxanna went to work at the Texas Medical Center as an operating room and perioperative nurse working with children and adults. Roxanna's dedication towards her patients and passion for aiding in the healthcare of others lead her to pursue her Master's degree of Nursing. She wanted to be more closely involved in her patients' care and began her degree as a Family Nurse Practitioner and graduated from UTMB in 2012. She currently helps prepare future nurse practitioner students by being their mentor during clinical rotations.
Roxanna is board certified as a Family Nurse Practitioner by the American Academy of Nurse Practitioners, is bilingual and also a member of the International Nursing Honors Society, Sigma Theta Tau.
---
Certifications:
Texas Board of Nurse Examiners, Registered Nurse
Texas Board of Advanced Practice Nurses, Advanced Practice Nurse
American Academy of Family Nurse Practitioners, Advanced Practice Nurse
2020 East Highway 6
Alvin, TX 77511
Fax: (281) 585-3819