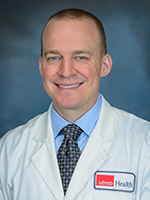 Dr. Jeffrey Garcia was born in Morgantown, West Virginia. He attended Duquesne University in Pittsburgh, Pennsylvania studying biology. After three years of undergraduate studies, he was accepted into the West Virginia University School of Dentistry and he earned his Doctorate of Dental Surgery in 2012. Dr. Garcia would then complete his residency in Oral and Maxillofacial Surgery at the University of Texas Medical Branch (UTMB) in 2016.
After completing his residency, Dr. Garcia entered private practice in Greensburg, Pennsylvania. He founded and operated Keystone Oral and Maxillofacial Surgery, P.C.. Dr. Garcia decided to return to Galveston in early 2020 to join UTMB as an Assistant Professor within the Division of Oral and Maxillofacial Surgery.
Dr. Garcia is a Diplomate of the American Board of Oral and Maxillofacial Surgery and Fellow of the American Association of Oral and Maxillofacial Surgeons. Dr. Garcia's clinical interest includes dentoalveolar surgery, odontogenic infections, maxillofacial trauma, and dental implants. In his free time, Dr. Garcia enjoys fitness training, hunting, and spending time with his wife Ashley and their three children Jake, Luke, and Lily.
Medical/Professional School:
DDS, West Virginia University - Morgantown, WV, 2012
Residencies:
Oral and Maxillofacial Surgery, University of Texas Medical Branch - Galveston, TX, 2016
1600 W. League City Parkway Suite A
League City, TX 77573
Fax: (832) 632-5221
1005 Harborside Drive 5th Floor
Galveston, TX 77555
Fax: (409) 772-4456
Why do some providers have no ratings?
A provider may have no ratings for several reasons. A provider's ratings are only posted when she/he has a minimum of 30 completed surveys within the past twelve months. New-to-UTMB providers or individuals in less common areas of practice may be temporarily under this threshold. Also, the UTMB Health provider directory includes listings for independent community physicians and other health care providers who serve patients in our facilities. Ratings for these individuals, who are part of their own private practices, are not currently available to us.
Read more about Ratings and Comments