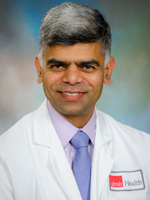 Dr. Alok Dabi, was born and raised in India, where he completed his medical school, and was then selected to the India's premier medical institute, All India Institute of Medical Sciences, from where he completed his residency in Internal Medicine.After that, he had a short stay in the United Kingdom where he practiced General Medicine, before reaching the United States.After completing the Neurology residency, and then subsequently subspecializing in the field of Neurocritical Care, he joined the University of Texas Medical Branch, Galveston, Texas as an Assistant Professor to form a part of the vibrant and young faculty in the Department of Neurology.Recruited to help with the establishment and growth of the nascent Neurocritical Care Unit, the Neurocritical Care program has seen consistent development since his recruitment, under the able guidance of Dr. Anish Bhardwaj, the Head and the Chair of the department, and who is also one of the nation's leading Neurocritical Care specialist.Dr. Dabi is actively involved with teaching activities involving the Neurocritical Care Unit (NCCU) staff, besides being an active member of various institutional committees, including the Organ Donation Committee, Anticoagulation Committee and Multidisciplinary Critical Care Committee. He has been an invited speaker on different critical care topics including Targeted Temperature Management, Aphasia and Language disorders etc. Dr. Dabi and his family enjoy staying in Texas and are happy to be a part of the development of the Greater Houston area, and are keen to make their contribution in its growth.
Medical/Professional School:
Medical School: SMS Medical College Jaipur - Rajasthan, India, MD, 1999
Internships:
Internal Medicine, Prince George's Hospital Center - Cheverly, MD, 2009
Residencies:
Internal Medicine, All India Institute of Medical Sciences - New Delhi, India, 2003
Internal Medicine, Weston General Hospital Weston - Super - Mare, United Kingdom, 2008
Neurology, Howard University Hospital - Washington, DC, 2012
Fellowships:
Neurocritical Care, Froedtert Memorial Hospital Medical College of Wisconsin - Milwaukee, WI, 2014
---
Certifications:
Education Commission for Foreign Medical Graduates, United States Medical License
American Board of Psychiatry and Neurology, Neurology
United Council for Neurological Subspecialties, Neurocritical Care
1005 Harborside Drive 6th Floor
Galveston, TX 77555
Fax: (409) 772-4456
Why do some providers have no ratings?
A provider may have no ratings for several reasons. A provider's ratings are only posted when she/he has a minimum of 30 completed surveys within the past twelve months. New-to-UTMB providers or individuals in less common areas of practice may be temporarily under this threshold. Also, the UTMB Health provider directory includes listings for independent community physicians and other health care providers who serve patients in our facilities. Ratings for these individuals, who are part of their own private practices, are not currently available to us.
Read more about Ratings and Comments