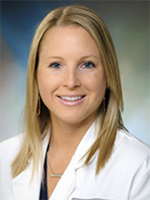 Brittany Menefee was born in the great state of Texas and was raised in Galveston County. She obtained her Bachelor of Science in Nursing from Texas State University in 2012. Brittany started her nursing career as an Emergency Room RN in Round Rock, Texas. She then moved back to the Houston area, to be closer to family, and began working as an Emergency Room nurse at Ben Taub Hospital. Brittany continued working at Ben Taub throughout her Master's degree program. She graduated from the University of Texas Medical Branch in Galveston, Texas in December 2017. Brittany is board certified as a Family Nurse Practitioner by the American Academy of Nurse Practitioners.
Brittany enjoys spending time with her family and her rescue dogs.
Medical/Professional School:
University of Texas Medical Branch - Galveston, TX, MSN, FNP-C, 2017
UTMB Health Family Medicine - Angleton
136 East Hospital Drive
Angleton, TX 77515
Fax: (979) 849-4080
---
UTMB Health Urgent Care - Angleton
2327 East Mulberry Street Suite C
Angleton, TX 77515
Fax: (979) 849-0789
---
Why do some providers have no ratings?
A provider may have no ratings for several reasons. A provider's ratings are only posted when she/he has a minimum of 30 completed surveys within the past twelve months. New-to-UTMB providers or individuals in less common areas of practice may be temporarily under this threshold. Also, the UTMB Health provider directory includes listings for independent community physicians and other health care providers who serve patients in our facilities. Ratings for these individuals, who are part of their own private practices, are not currently available to us.
Read more about Ratings and Comments