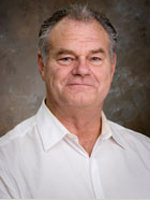 Dr. Michael Fuller serves as a faculty clinician and advisor for The Psychiatric Consultation and Liaison Service. He has been a faculty member with UTMB since 1989 and is certified by the American Board of Psychiatry and Neurology. A native of Oklahoma, Dr. Fuller attended the U.S. Army Academy of Health Science eventually completing his premed education at the University of Texas at San Antonio in 1980. He received his medical degree from UTMB in 1984 and then completed a two-year internship at the United States Air Force Medical Center in San Antonio. In 1986, Dr. Fuller returned to Galveston and UTMB for a four year psychiatry residency followed by a two-year fellowship in consultation-liaison services.
As an associate clinical professor, Dr. Fuller advises residents, fellows and medical students in accurate, effective patient evaluation, treatment and referral. His expertise comes from years of experience with the Psychiatric Consultation and Liaison Service where he evaluates and treats hundreds of patients requiring immediate interventions during their hospitalization in any of the UTMB facilities or in the Emergency Department. Dr. Fuller also brings to psychiatry his vast knowledge of general medicine derived from his two years of providing instruction in the Family Medicine Department of UTMB. This enables him to easily incorporate or differentiate medical issues into his treatment decisions involving psychiatric interventions.
His research activities have included investigation into the progression of AIDS encephalopathy and the effect of various medications shown to slow this process. Dr. Fuller has also participated in research and medication trials in an effort to better treat depression in AIDS patients and in trials aimed at treating Traumatic Stress Syndrome in combat injured soldiers.
Dr. Fuller has given numerous lectures and seminars throughout Texas on several subjects including anxiety disorders, treatment of depressive disorders, psychiatric manifestations of AIDS, clinical hypnosis, Post Traumatic Stress Disorder, emergency psychiatric interventions and substance abuse.
Medical/Professional School:
University of Texas Medical Branch - Galveston, TX, MD, 1984
Internships:
Psychiatry, Wilford Hall USAF Medical Center - San Antonio, TX, 1985
Residencies:
Psychiatry, University of Texas Medical Branch - Galveston, TX, 1989
Fellowships:
Medical Consultation and Liaison Psychiatry, University of Texas Medical Branch - Galveston, TX, 1990
---
Certifications:
American Board of Psychiatry and Neurology, Psychiatry
American Board of Psychiatry & Neurology, Psychiatry
400 Harborside Drive Suite 118
Galveston, TX 77555
Fax: (409) 747-4010