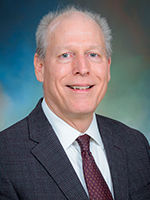 Professor (N-T Track Clinical)
Dr. Wolf is a Professor of Psychiatry in the Child and Adolescent Division, Department of Psychiatry & Behavioral Sciences at UTMB and the Vice Chair of the Department of Psychiatry. He attended Lamar University in Beaumont, TX, graduating Summa Cum Laude with a Bachelor of Arts in Biology with a Minor in Chemistry. Dr. Wolf attended Medical School at UTMB graduating in 1986, completed his residency in General Psychiatry in 1993 and his fellowship in Child and Adolescent Psychiatry in 1995. He joined the faculty of the Department of Psychiatry upon completion of his fellowship. He has served as the Department's Outpatient Medical Director since 2000 and has been the Chairman of IRB-2 since 2010. He was appointed to be the Vice Chairman of the Department of Psychiatry in 2015. He maintains an active private practice and provides clinical supervision of the Child Psychiatry fellows and medical students in the UTMB Psychiatry clinics and the St. Vincent's Clinic. He is certified by the American Board of Psychiatry and Neurology, in General and Child and Adolescent Psychiatry. Dr. Wolf's areas of research interest include Team Based Learning in Medical Student Education, The use of popular cinema in Medical Student Psychiatry Education, Psychopharmacology and Medication Side Effects, and Bipolar Disorder in youth.
Dr. Wolf was selected to become an Osler Scholar in June, 2015. He has received numerous awards including awards for his dedication and service to NAMI Gulf Coast, Most Dedicated Faculty Award at the St. Vincent's Clinic, and the Medical Student Teaching Award in The Department of Psychiatry. He previously served as the course director for the Psychiatry component of the Practice of Medicine course for second year medical students and the course director for two elective/selective courses; Psychiatry and Cinema, and Diagnosis Simply Through Movies (DSM5). He is a member of the national Team Based Learning Conference Planning Committee and Team Based Learning Collaborative Nominating Committee. His regular lecture modules to the residents and medical students include Developmental Learning Disorders, Child and Adolescent Psychopharmacology, the Pharmacologic treatment of Depression and Bipolar Disorder in youth, Substance Abuse, Childhood Schizophrenia, Emergency Psychiatry, and Neurocognitive Disorders. He is a frequent invited speaker to community support groups for those affected by mental illness.
Medical/Professional School:
University of Texas Medical Branch - Galveston, TX, MD, 1990
Internships:
University of Texas Medical Branch - Galveston, TX, 1991
Residencies:
Psychiatry, University of Texas Medical Branch - Galveston, TX, 1993
Fellowships:
Child & Adolescent Psychiatry, University of Texas Medical Branch - Galveston, TX, 1995
---
Certifications:
American Board of Psychiatry and Neurology, General Psychiatry
American Board of Psychiatry and Neurology, Psychiatry
American Board of Psychiatry and Neurology, Child and Adolescent Psychiatry
UTMB Health Psychiatry - Galveston
400 Harborside Drive Suite 118
Galveston, TX 77555
Fax: (409) 747-4010
---