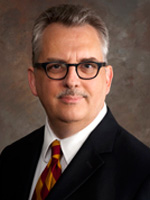 Christopher R. Thomas, MD is the Robert L. Stubblefield Professor of Child Psychiatry in the Department
of Psychiatry and Behavioral Sciences at the University of Texas Medical Branch at Galveston. He
currently serves as the Assistant Dean for Graduate Medical Education and the Director of the Child and
Adolescent Psychiatry Residency Training Program.
Previously at Western Psychiatric Institute and Clinic, University of Pittsburgh, he has been a member of
UTMB faculty since 1992. His undergraduate training was at Rice University, Houston and he graduated
from Baylor College of Medicine, Houston. His residency in both General and Child Psychiatry was at
McLean Hospital, Harvard University, Boston.
He has held several leadership positions on national committees including Chair, Rights and Legal
Matters Committee for the American Academy of Child & Adolescent Psychiatry and Chair of the Review
Committee for Psychiatry of the American Council for Graduate Medical Education. He also led the
development of the ACGME Psychiatry Milestones Project for General Psychiatry and the Psychiatry
Subspecialties. He currently serves as a Director for the American Board of Psychiatry and Neurology.
He has received numerous honors including the Sandoz Award, the American Academy of Child &
Adolescent Psychiatry Rieger Service Program Award for Excellence, and the American Academy of
Child & Adolescent Psychiatry Catcher in the Rye Award for child advocacy. He is also a Distinguished
Fellow of both the American Psychiatric Association and the American Academy of Child & Adolescent
Psychiatry, and a Fellow of the American College of Psychiatrists.
His research has focused on forensic child psychiatry, gangs and antisocial behavior in youth, psychiatric
care for pediatric burn survivors, child mental health care and innovative treatment for children, using
community based and telemedicine approaches.
Medical/Professional School:
Baylor College of Medicine - Houston, TX, MD, 1979
Internships:
Psychiatry, Harvard Medical School McLean Hospital - Belmont, MA, 1980
Residencies:
Combined General & Child Psychiatry, Harvard Medical School McLean Hospital - Belmont, MA, 1984
---
Certifications:
American Board of Psychiatry and Neurology, Diplomate in Psychiatry
American Board of Psychiatry and Neurology, Psychiatry
American Board of Psychiatry and Neurology, Child and Adolescent Psychiatry
400 Harborside Drive Suite 118
Galveston, TX 77555
Fax: (409) 747-4010