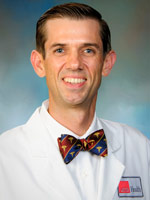 This individual is in a non-scheduling role
Dr. Justin Serrette joined UTMB Pediatric Associates in 2014. Dr. Serrette sees patients at both the Texas City Pediatric Clinic and the Victory Lakes Urgent Care Clinic where he serves as the Medical Director.
Born and raised in South Louisiana, Dr. Serrette attended Louisiana State University in Baton Rouge prior to completing medical school at UTMB in 2009. He remained at UTMB in Galveston for his pediatric internship and residency. Dr. Serrette is board-certified in Pediatrics by the American Board of Pediatrics.
Dr. Serrette enjoys spending his free time with his wife and daughters. You can also find him running along the seawall in Galveston most days.
Medical/Professional School:
University of Texas Medical Branch - Galveston, TX, MD, 2009
Internships:
University of Texas Medical Branch - Galveston, TX, 2010
Residencies:
Pediatrics, University of Texas Medical Branch - Galveston, TX, 2012
10121 Emmett F. Lowry Expressway
Texas City, TX 77591
Fax: (409) 986-7890