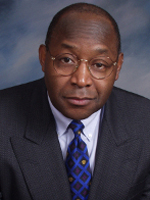 Departments: Orthopaedic Surgery
Dr. Ronald W. Lindsey is Professor and Chair of the Department of Orthopaedic Surgery and Rehabilitation at the University of Texas Medical in Galveston, Texas. Dr Lindsey is a highly acclaimed orthopaedic surgeon-scientist with subspecialty training and expertise in musculoskeletal spine and trauma conditions. He completed his undergraduate education at Yale University and received his medical degree from Columbia University College of Physicians and Surgeons. After his orthopaedic surgery residency, also at Yale University, he completed Fellowships in Orthopaedic Trauma/Internal Fixation, Spine Surgery, and Upper Extremity Reconstructive Surgery.
Dr Lindsey's 30 (plus) year academic medical career has been dedicated to maintaining a vibrant evidence-based clinical practice bolstered by the development and inclusion of innovative and cutting-edge therapeutic techniques and technologies. He has a wide spectrum of clinical and basic science interests, and his original research includes surgical reconstruction of the spine, the pelvis, extremity injury from trauma, degenerative disorders, infection, and tumor resection. In addition to numerous peer-reviewed publications and textbook chapters, Dr Lindsey's work has earned him many scientific and teaching awards, as well as membership on the editorial boards of major peer-reviewed journals and editorships.
Medical/Professional School:
Columbia University College of Physicians & Surgeons - New York, NY, MD, 1977
Internships:
General Surgery, Yale - New Haven Hospital - New Haven, CT, 1978
Residencies:
Orthopaedic Surgery, Yale - New Haven Hospital - New Haven, CT, 1982
Fellowships:
Spine Surgery, University of Innsbruck - Innsbruck, Austria, 1982
Trauma and Spine Surgery, University of Basel - Basel, Switzerland, 1982
Hand & Microvascular Surgery, Stoke Mandeville Hospital - Aylesbury, England, 1983
Trauma and Spine Surgery, University of Marseille - Marseille, France, 1987
Trauma and Spine Surgery, University of Basel - Basel, Switzerland, 1988
---
Certifications:
American Board of Orthopedic Surgery, Orthopedic Surgery
UTMB Health Orthopedics - League City Campus Clinics
2240 Gulf Freeway South Suite 1.211
League City, TX 77573
Fax: (281) 309-0137
---
UTMB Health Orthopedics - League City
3023 Marina Bay Drive Suite 101
League City, TX 77573
Fax: (832) 632-5221
---