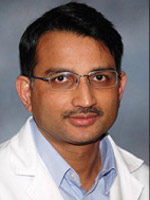 Dr. Aaron Mohanty was born and raised in Cuttack, India He completed his medical and academic training at SCB Medical College, Cuttack, India. He continued on with neurosurgical training from 1986-1991 at the National Institute of Mental Health and Neurosciences (NIMHANS), one of the unique institutions of its kind in south-east Asia promoted by the Government of India to promote the disciplines of Neurology, Neurosurgery and Psychiatry in a comprehensive manner. During his residency, Dr. Mohanty submitted a dissertation on "Cognitive outcome and Quality of Life in aneurysmal subarachnoid hemorrhage patients" to the University. Upon completion of the program, he was awarded the MCh degree by Bangalore University under the auspices of Medical Council of India, which oversees the residency training in India. Subsequently he joined as Assistant Professor, Neurosurgery at NIMHANS in 1993, was promoted to Associate Professor in 1997 and continued as Additional Professor in 2003. In the meantime, Dr. Mohanty completed a 2-year pediatric neurosurgery fellowship at University of Arizona and Phoenix Children's Hospital, Phoenix. In 2004, he relocated to Houston and joined as Assistant Professor of Neurosurgery at University of Texas Health Sciences Center in Houston and then joined University of Texas Medical Branch at Galveston in December 2007.
Apart from Adult and Pediatric Neurosurgery, Dr Mohanty has keen interest in developing and mastering the techniques of endoscopic neurosurgery. Dr. Mohanty has performed over 500 endoscopic procedures for pediatric and adult patients for various conditions like hydrocephalus, arachnoid cysts, colloid cysts, intraventricular tumors and isolated and compartmentalized hydrocephalus. During his tenure in India, Dr. Mohanty organized two very successful hands on endoscopic workshops in conjunction with Prof. Michael R Gaab, Greifswald, Germany who is considered as the pioneer of endoscopic neurosurgery. He has several publications in the field of endoscopic neurosurgery, which are widely referenced in the endoscopic literature. He is actively involved in popularizing this subspecialty and have several presentations in national and international meetings in the recent past. Dr. Mohanty was invited to participate in the Symposium "Masters of Neuroendoscopy" which was held during the XIV world Congress of Neurological Surgeons meeting at Boston, 2009. He has also been a guest speaker at several conferences in India over the years; such as, Neurological Society of India, Neurosurgical Spine Society of India, and the Indian Society of Pediatric Neurosurgery.
Apart from popularizing endoscopic neurosurgery, his interest has been in the management of hydrocephalus. Dr. Mohanty is keenly involved in management of various subtypes of hydrocephalus like normal pressure hydrocephalus, a condition seen in elderly population and benign external hydrocephalus seen in the infantile period. Dr. Mohanty has authored a book called: "A patient and parent education guide: 100 Questions and Answers in Hydrocephalus", which is published by Jones and Bartlett, Boston. This book has been a great help for patients and families of patients who have hydrocephalus.
Medical/Professional School:
Sriram Chandra Bhanj Medical College & Hospital (S.C.B Medical College), Utkal University - Odisha, India, MD, 1986
Residencies:
Neurosurgery, National Institute of Mental Health and Neuro-Sciences - Bengaluru, India, 1993
Fellowships:
Pediatric Neurosurgery, University of Arizona - Tucson, AZ, 1999
---
Certifications:
Medical Council of India,
250 Blossom Street 4th Floor
Webster, TX 77598
Fax: (409) 772-3680
250 Blossom Street 4th Floor
Webster, TX 77598
Fax: (832) 632-7866