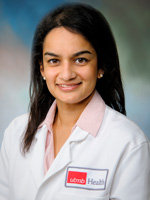 This individual is in a non-scheduling role
Dr. Pooja Patel is an Assistant Professor in the department of Obstetrics and Gynecology. Dr. Patel specializes in Obstetrics and Gynecology. Her research interests inluclude Adolescent Contraceptions, Cervical Dysplasia, DNA Damage and Mutagenesis in Gynecologic Cancers. Dr. Patel received her medical degree from Baylor College of Medicine in Houston, TX. She completed her residency at Baylor College of Medicine and Affiliated Hospitals.
Medical/Professional School:
Baylor College of Medicine - Houston, TX, MD, 2008
Internships:
Obstetrics and Gynecology, Baylor College of Medicine - Houston, TX, 2012
1005 Harborside Drive 3rd Floor
Galveston, TX 77555
Fax: (409) 747-5570
Why do some providers have no ratings?
A provider may have no ratings for several reasons. A provider's ratings are only posted when she/he has a minimum of 30 completed surveys within the past twelve months. New-to-UTMB providers or individuals in less common areas of practice may be temporarily under this threshold. Also, the UTMB Health provider directory includes listings for independent community physicians and other health care providers who serve patients in our facilities. Ratings for these individuals, who are part of their own private practices, are not currently available to us.
Read more about Ratings and Comments