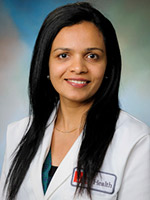 Dr. Kamakshi Patel was born and raised in India. She completed her medical school training and internship in India. After graduating from medical school, she moved to the United States, and went on to pursue Masters in Public health (MPH) followed by internship and residency at the Michigan State University. During her residency, she also held the title of clinical instructor and won awards and nominations for attending educational meetings for neurology residents.
After completion of fellowship at the University of Arizona, she stayed back as faculty to pursue a career in Academic medicine. She is board certified in Neurology, Neurophysiology (epilepsy) and Neuromuscular and Electrodiagnostic medicine. During her time at Arizona, she served many outreach clinics and provided care in areas underserved by a neurologist. She was very active in resident education, and held many lectures to aid their education.
Later, she moved to the Houston area, and joined the University of Texas Medical Branch, Department of Neurology, where she has held the title of Assistant Professor and Associate Residency program Director. She continues to remain active in resident and student education. She also serves on the committee for Self-Assessment Examinations (SAE) for the American Association of Neuromuscular & Electrodiagnostic Medicine (AANEM). In addition to presenting abstracts and publishing articles, she has also served as author for book chapter. She holds active memberships in professional neurological organizations.
Medical/Professional School:
Krishna Institute of Medical Sciences - Karad, India, MD, 2004
Internships:
Neurology, Michigan State University/Sparrow Hospital - East Lansing, MI , 2008
Residencies:
Neurology, Michigan State University/Sparrow Hospital - East Lansing, MI , 2011
Fellowships:
Neurophysiology, University of Arizona - Tucson, AZ, 2012
---
Certifications:
American Board of Psychiatry and Neurology, Psychiatry
American Board of Electrodiagnostic Medicine,
Clinical Neurophysiology-Epilepsy Monitoring , American Board
250 Blossom Street 4th Floor
Webster, TX 77598
Fax: (832) 632-7866
250 Blossom Street 4th Floor
Webster, TX 77598
Fax: (409) 747-2138