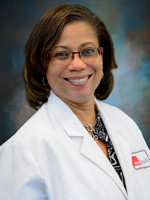 Dr. Kimble joined UTMB Health Community Based Clinics in 2015. She is board-certified by the American Board of Pediatrics after completing her residency at UT Houston Health Science Center. She has a bachelor's degree from Hampton University. She was in private practice shortly after residency and co-owned the practice for 10 years. She is a married professional with 4 children; 2 sets of twins identical boys and fraternal girls. Eventually she and her family made a change and moved to San Antonio where she worked as a general pediatrician, urgent care physician and then a hospitalist before moving back to the Houston area.
Dr. Kimble serves on the Student Health Advisory Committee and is a mentor to area youth. She is a member of the American Academy of Pediatrics, Harris County Medical Society, Texas Medical Association, and Houston Medical Forum.
She has a special interest outside of the love for the children she cares for in her clinic and chasing butterflies in their ears, she also enjoys her multiples families given her bond with them having her own sets of multiples. More recently she has had the unique opportunity to work on the reality show, Outdaughtered that can be viewed on TLC for the last few years.
Medical/Professional School:
University of Maryland School of Medicine - Baltimore, MD, MD, 1993
Residencies:
Pediatrics, University of Texas Health Science Center - Houston, TX, 1996
333 North Texas Avenue Suite 4300
Webster, TX 77598
Fax: (281) 338-9543