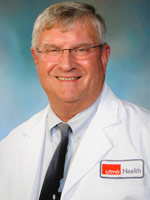 Not accepting new patients; established patients please use MyChart
Dr. John Moore was born and raised in Charleston, SC where he attended the Medical University of South Carolina. He completed a residency in Family Medicine at UTMB in 1978. He was in private practice in Galveston following completion of his residency. He has been at UTMB for the past 30 years in the Community Based Clinics. He has been a Board Certified Family Practitioner for the past 40 years and recertified most recently in 2013. He is a member of the Galveston County Chapter of the TAFP where he has served as the secretary and treasurer for a number of years and the Texas Medical Association. His hobbies include retriever training and fishing. He has lived in Galveston since 1975.
His main areas of interest are hypertension, hyperlipidemia and Type II diabetes. He strives to help patients learn how to help themselves in dealing with these chronic conditions.
Medical/Professional School:
Medical University of South Carolina - Charleston, SC, MD, 1975
Internships:
Family Practice, University of Texas Medical Branch - Galveston, TX, 1976
Residencies:
Family Practice, University of Texas Medical Branch - Galveston, TX, 1978
No location details to display