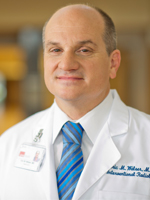 An internationally renowned interventional radiologist, Dr. Walser's clinical interests are wide-ranging and include the use of non-surgical ablation for treatment of small tumors in the liver and kidney as an alternative to open surgery. He is highly regarded for his clinical expertise, and was named by Best Doctors, Inc. as one of the best doctors in the country in 1996 and 2004 as a result of their annual peer review survey. As a researcher, he has secured industry sponsored funding for his investigations in liver cancer therapy, thrombolytic therapy, non-invasive arterial imaging and patient anticoagulation. He has published extensively in peer-reviewed journals as well as book chapters, and is a reviewer for many prestigious journals. Dr. Walser has lectured throughout the world regarding cancer treatment and minimally invasive surgical management. In the educational realm, he has been very active in teaching and has mentored numerous residents and fellows.
Dr. Walser earned his medical degree from UTMB in 1988. He completed both his diagnostic radiology residency training (1992) and interventional radiology and body imaging fellowship training (1993) at the Indiana University Medical Center. He began his professional career as Assistant Professor and Chief of Diagnosis in the Department of Radiology at UTMB, where he served for four years. Following a two-year appointment at the St. Paul Medical Center – Department of Radiology in Dallas, Dr. Walser returned to UTMB as Executive Vice Chairman and Director of Vascular and Interventional Radiology and of Research. Most recently, he held the appointment of Professor, Senior Associate Consultant in Interventional Radiology, and Consultant in the Department of Radiology at the Mayo Clinic in Jacksonville, Florida. In his new post, Dr. Walser will oversee the daily functions of the Department of Radiology and the Vascular and Interventional Radiology Section, maintaining a close dynamic collaboration with the surgical and oncology departments.
No education and certification details to display
No location details to display
Why do some providers have no ratings?
A provider may have no ratings for several reasons. A provider's ratings are only posted when she/he has a minimum of 30 completed surveys within the past twelve months. New-to-UTMB providers or individuals in less common areas of practice may be temporarily under this threshold. Also, the UTMB Health provider directory includes listings for independent community physicians and other health care providers who serve patients in our facilities. Ratings for these individuals, who are part of their own private practices, are not currently available to us.
Read more about Ratings and Comments