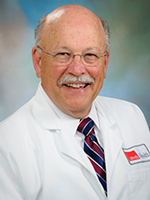 Oscar Brown, III, MD, FAAP
Not accepting new patients; established patients please use MyChart
Dr. Oscar W "Skip" Brown is the Vice Chair for Clinical Affairs and Professor of Pediatrics in the Division of General Academic Pediatrics. He served as Chief Medical Officer for UTMB in 2013 through 2014. Dr. Brown received his degree in Medicine from the Louisiana State University School of Medicine in New Orleans. He then came to UTMB as a Pediatric resident and completed his residency in 1978. He then began his practice of pediatrics in Longview, Texas for the next 32 years.
During his practice he has been involved in many activities at the state and national level in Pediatrics. Dr. Brown has served as President of the Texas Pediatric Society. He has chaired several committees and task forces for the TPS as well. He currently is the Immediate Past Chair of the Texas chapter of the AAP. He served as a member of the Practice and Ambulatory Medicine Committee for the AAP for 6 years. He is a representative to the National Nominating Committee for the AAP and he is the Chapter liason representative to the Disaster Preparedness Advisory Committee of the AAP from Texas. Dr. Brown has been Chair of the Socioeconomics Council for the Texas Medical Association and is a member of the Committee on Medicaid for the TMA. Additionally, Dr. Brown has chaired the Public Health Benefits Review and Design Committee for Texas HHSC. (The committee to evaluate and recommend for reimbursement by Texas Medicaid). He is a member of the Texas Medicaid Advisory Committee for HHSC as well. He was recognized with a special achievement award by the AAP in 2010 for work on improving access to immunizations for children. He was the recipient of the Sidney Kaliski, M.D. Award for Meritorious service by the Texas Pediatric Society.
He was a member of the Post-Katrina Task Force of the AAP. He also served as a member of the editorial board of HealthyChildren.org a website for pediatric information for families and caregivers that is sponsored by the AAP. He is the parent of four grown children and the grandfather of five wonderful grandchildren..
Dr. Brown serves as our clinician lead for establishing our pediatric clinics as a designated Primary Care Medical Home by the NCQA.

Medical/Professional School:
Louisiana State University School of Medicine - New Orleans, LA, MD, 1975
Internships:
Pediatrics and Internal Medicine, University of Texas Medical Branch - Galveston, TX, 1976
Residencies:
Pediatrics, University of Texas Medical Branch - Galveston, TX, 1978
No location details to display