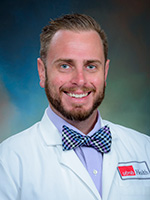 Dr. David Lindsay is an assistant professor in the department of pediatrics who specializes in pediatric allergy and immunology. He received his M.D. from St. George's University and completed residency training in pediatrics at the University of Texas Medical Branch (UTMB). Following residency, he completed a fellowship in allergy and immunology at the University of South Florida (USF).
Dr. Lindsay specializes in the diagnosis and treatment in a variety of allergic conditions, including asthma, seasonal allergies, food allergy, and atopic dermatitis. In addition, Dr. Lindsay also has training in the evaluation and management of primary immunodeficiency disorders (PIDDs) and other immunologic disease.
Dr. Lindsay is board certified by the American Board of Pediatrics, and is currently board eligible for the American Board of Allergy and Immunology. He is a native of the Houston-Galveston area and is passionate about promoting quality healthcare in this region.
No education and certification details to display
2785 Gulf Freeway South Suite 2.200
League City, TX 77573
Fax: (409) 772-3680
400 Harborside Drive Suite 103
Galveston, TX 77555
Fax: (409) 772-3680
Why do some providers have no ratings?
A provider may have no ratings for several reasons. A provider's ratings are only posted when she/he has a minimum of 30 completed surveys within the past twelve months. New-to-UTMB providers or individuals in less common areas of practice may be temporarily under this threshold. Also, the UTMB Health provider directory includes listings for independent community physicians and other health care providers who serve patients in our facilities. Ratings for these individuals, who are part of their own private practices, are not currently available to us.
Read more about Ratings and Comments