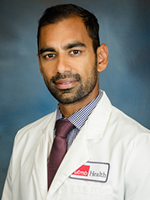 Rishi Rajiv Lall, MD, MBA
Dr. Rishi Lall was born in Minneapolis, MN and grew up in northern Wisconsin. He completed his undergraduate education at Northwestern University in Evanston, IL with a degree in biological sciences. He obtained his MD from the University of Wisconsin School of Medicine and Public Health. During medical school Dr. Lall was selected for membership in the prestigious Alpha Omega Alpha Medical Honors Society and won numerous awards including the Lewis E. and Edith Phillips Scholarship awarded to the top five students in each medical school class. During medical school, Dr. Lall developed a passion for the neurosciences and neurosurgery and was awarded the Mark Gichert Memorial Award for Scholarship in Neurosurgery.
Dr. Lall completed his internship at Northwestern Memorial Hospital in Chicago, IL and completed his neurosurgery residency training and Chief Residency at the University of Texas Medical Branch. During this time, he was received the Thayer Award for Excellence in Teaching, awarded by the UTMB School of Medicine. He currently serves as a full-time faculty Neurosurgeon at UTMB. He is a member of the Board of Directors for the Texas Association of Neurological Surgeons and serves as an alternate delegate for Texas to the national Council of State Neurosurgical Societies. He is also an active member of the Congress of Neurological Surgeons.
Dr. Lall's clinical interests include complex and minimally invasive spine surgery for degenerative disc disease and spinal stenosis, scoliosis and spinal deformity surgery, brain tumor and skull base surgery and cerebral aneurysm surgery. He is passionate about using cutting edge and minimally invasive techniques to maximize patient outcomes, decrease postoperative pain, and improve recovery. He is actively involved in research on the effects of spine surgery on chronic pain and his research has been presented at the American Academy of Neurological Surgeons annual meeting as well as at the Congress of Neurological Surgeons.
In his personal time, Dr. Lall enjoys traveling, playing tennis and golf, and spending time with his wife, who is also a physician at UTMB in the department of Family Medicine. He is proud to be a member of the UTMB community and looks forward to making a difference.
Medical/Professional School:
University of Wisconsin School of Medicine and Public Health - Madison , Wisconsin, MD, 2012
Residencies:
Neurosurgery, University of Texas Medical Branch - Galveston, Texas, 2018
250 Blossom Street Suite 400
Webster, Texas 77598
Fax: (832) 632-7866
Why do some providers have no ratings?
A provider may have no ratings for several reasons. A provider's ratings are only posted when she/he has a minimum of 30 completed surveys within the past twelve months. New-to-UTMB providers or individuals in less common areas of practice may be temporarily under this threshold. Also, the UTMB Health provider directory includes listings for independent community physicians and other health care providers who serve patients in our facilities. Ratings for these individuals, who are part of their own private practices, are not currently available to us.
Read more about Ratings and Comments