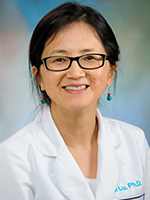 Languages: English, Mandarin Chinese
Dr. Lu was born and grew up in the Northeast of China. After teaching English as a second language at a medical school in China for more than five years, she was awarded a scholarship to study psychology at the University of Alaska Fairbanks, where she earned a master's degree in community psychology. She then went to earn a doctoral degree in clinical psychology at Brigham Young University with an emphasis in neuropsychology. After having lived in many states, from Alaska to the US Virgin Islands and from Washington to Maryland, she and her husband are now happily calling Texas their home.
Medical/Professional School:
Bringham Young University - Provo, UT, PhD, 2002
Fellowships:
Neuropsychology, John Hopkins University School of Medicine - Baltimore, MD, 2004
---
Certifications:
National Register of Health Service Providers in Psychology, Psychology
250 Blossom Street Suite 400
Webster, Texas 77598
Fax: (832) 632-7866
Why do some providers have no ratings?
A provider may have no ratings for several reasons. A provider's ratings are only posted when she/he has a minimum of 30 completed surveys within the past twelve months. New-to-UTMB providers or individuals in less common areas of practice may be temporarily under this threshold. Also, the UTMB Health provider directory includes listings for independent community physicians and other health care providers who serve patients in our facilities. Ratings for these individuals, who are part of their own private practices, are not currently available to us.
Read more about Ratings and Comments