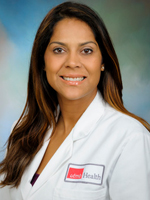 Shakira Dhamotharan, MD, MPH
Dr. Shakira Dhamotharan was born and raised in the state of New York. She completed all of her academic and medical training at St. Georges University in Grenada, West Indies. There she received a Master's degree in Public Health as well as her MD degree. She finished her residency in Family Medicine at St. Joseph's Hospital in Patterson, NJ. Dr. Dhamotharan held the positions of Assistant Program Director of Family Medicine Residency Program, and Instructor of Family and Community Medicine at New York Medical College where she practiced primary care as well as had an academic role. Additionally, in this position she assisted with research projects, trained residents as well as lectured fundamental family medicine practices to both medical students and residents.
Dr. Dhamotharan is actively involved in volunteering and serves on the Board of Directors for Team Triumphant, a children's charity organization that aspires to educate inner city youth with the necessary skills to graduate high school. Triumphant also assists them in attaining the resources needed to discover colleges and apply to them. She has traveled to Trinidad to volunteer her services with the Ministry of Health to assist with public health matters. She serves as international correspondent for the Sundar Charitable Trust whose primary goal is to bring math and reading supplies to poor villages in Tamil Nadu, India. Every two years, Dr. Dhamotharan and her husband visit this Trust and the local children to determine what steps need to be made to increase literacy rates.
Dr. Dhamotharan currently lives in Sugarland, TX with her husband and two sons. She and her husband are active members in Meenakashi Temple. She is board certified by the American Board of Family Physicians and she's been a member of the American Academy of Family Physicians since 2010.

Medical/Professional School:
Saint George's University School of Medicine - Grenada, West Indies, MD, 2009
Residencies:
Family Medicine, Saint Joseph's Regional Medical Center - Paterson, New Jersey, 2013
10121 Emmett F. Lowry Expressway
Texas City, TX 77591
Fax: (409) 986-7890