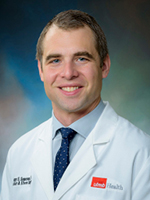 Dr. Somerson joined The University of Texas Medical Branch as Assistant Professor of Orthopaedic Surgery in 2016. He is a board-certified orthopaedic surgeon with special fellowship training in shoulder and elbow surgery. His philosophy is to treat every patient as he would like his family members to be treated, developing individualized treatment plans and listening carefully to the needs of each patient. Dr. Somerson is experienced with minimally-invasive arthroscopic surgery of the shoulder and elbow, rotator cuff problems, treatment of arthritis, joint replacement, repair of torn tendons, treatment of unstable joints, and repair of broken bones. He is currently the only member of the American Shoulder and Elbow Surgeons society to serve Galveston and the Bay Area, and is fluent in both Spanish and German.
If non-surgical treatments are unsuccessful, Dr. Somerson uses the latest minimally-invasive techniques for treatment of shoulder problems, including rotator cuff tears and shoulder dislocations. He has extensive training in treating shoulder arthritis and is a high-volume shoulder replacement surgeon. For patients who have had prior shoulder replacement and are having difficulties, he is experienced with revision shoulder replacements.
He underwent residency training at The University of Texas Health Science Center in San Antonio, a high-volume regional trauma center, where he gained experience in treating a wide range of orthopedic injuries, from high-impact motor vehicle collisions to everyday falls. He has a special interest in broken bones of the shoulder and elbow region and has published research and given lectures at national conferences on this topic. He also repairs a wide range of other broken bones, including hip, knee, ankle, and hand injuries.
During residency, Dr. Somerson had the opportunity to train in the management of difficult elbow problems, including fractures, instability of the joint, ligament and tendon tears, and arthritis, with Dr. Anil Dutta and Dr. Bernard Morrey, two renowned surgeons in the field of complex elbow reconstruction. He underwent an elective rotation at the Mayo Clinic in Rochester, MN to further his knowledge regarding advanced elbow surgical problems, including elbow replacement and elbow arthroscopy.
He then completed a fellowship in shoulder and elbow surgery at the University of Washington Medical Center. Under the guidance of Dr. Frederick Matsen, he gained advanced training in the fields of primary and revision shoulder replacement and in-depth experience in the fields of rotator cuff repair, shoulder and elbow stabilization surgery, elbow replacement, and repair of humerus fractures. Dr. Somerson is trained in the ream-and-run procedure, a radically conservative treatment option for selected patients desiring a high level of activity after shoulder replacement.
Dr. Somerson is actively engaged in research to further our understanding of shoulder and elbow problems. With over 50 peer-reviewed publications and book chapters, he is frequently invited to lecture on topics including reverse shoulder replacement and management of shoulder arthritis in active patients.
Medical/Professional School:
MD, University of Leipzig - Leipzig, Germany, 2009
Residencies:
Orthopaedic Surgery, University of Texas Health Science Center at San Antonio - San Antonio, TX, 2015
Fellowships:
Shoulder & Elbow, University of Washington - Seattle, WA, 2016
3023 Marina Bay Drive Suite 101
League City, TX 77573
Fax: (281) 334-0657
2240 Gulf Freeway South Suite 1.211
League City, TX 77573
Fax: (281) 309-0137