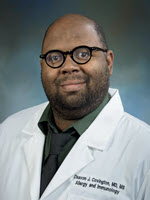 Dr. Cleavon Covington is an assistant professor in the Department of Pediatrics who specializes in Pediatric Allergy and Immunology. He received his Bachelors of Science in History with a minor in Biology and a Master's of Science in Biology He received his M.D. from the University of Texas Medical Branch (UTMB) and completed residency training in Internal medicine and Pediatrics at the University of Oklahoma School of Community Medicine in Tulsa. He completed a fellowship in Allergy and Immunology at the University of Texas Medical Branch (UTMB).
Dr. Covington specializes in diagnosing and managing a variety of allergic conditions including asthma, allergic and non-allergic rhinitis, food allergy, urticaria, and atopic dermatitis. He also specializes in primary and secondary Immunodeficiencies and eosinophilic disorders.
Dr. Covington is board certified by the American Board of Internal Medicine, and is currently board eligible for the American Board of Allergy and Immunology and the American Board of Pediatrics. His research interests are food allergies, anaphylaxis, immunodeficiency, and quality improvement.
Medical/Professional School:
MD, University of Texas Medical Branch - Galveston, TX, 2013
Residencies:
Internal Medicine/Pediatrics, University of Oklahoma Health Science Center - Tulsa, OK, 2017
Fellowships:
Allergy & Immunology, University of Texas Medical Branch - Galveston, TX, 2019
2785 Gulf Freeway South Suite 2.200
League City, TX 77573
Fax: (409) 772-3680