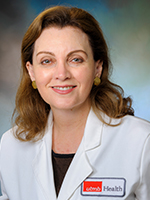 Not accepting new patients; established patients please use MyChart
Dr. Leticia Castillo is Co-Director and Professor of Pediatrics at UTMB Children's Hospital Pediatric Critical Care Unit (PICU). She received her M.D. from the Universidad Nacional Autonoma de Mexico in Mexico City, Mexico and completed her pediatric residency at Boston Hospital, Tufts University in Boston. Dr. Castillo completed a post-doctoral fellowship in Pediatric Critical Care Medicine at Massachusetts General Hospital, Harvard Medical School, also in Boston. She joined UTMB in 2018 and comes from Cleveland Clinic Children's Lerner College of Medicine, where she held various positions which include Professor and Chair of the Division of Critical Care.
Dr. Castillo is board certified by the American Board of Pediatrics in Pediatrics and Pediatric Critical Care Medicine.
No education and certification details to display
No location details to display
Why do some providers have no ratings?
A provider may have no ratings for several reasons. A provider's ratings are only posted when she/he has a minimum of 30 completed surveys within the past twelve months. New-to-UTMB providers or individuals in less common areas of practice may be temporarily under this threshold. Also, the UTMB Health provider directory includes listings for independent community physicians and other health care providers who serve patients in our facilities. Ratings for these individuals, who are part of their own private practices, are not currently available to us.
Read more about Ratings and Comments