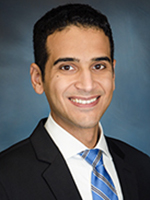 Languages: English, Arabic, Turkish
Dr. Hisham Marwan is an Assistant Professor in Oral and Maxillofacial Surgery in the Department of Surgery at the University of Texas Medical Branch (UTMB). He is a board-certified surgeon by the American Board of Oral and Maxillofacial Surgery.
In 2010, Dr. Marwan earned his degree in Dental Medicine and Surgery (BDS) at the King Abdulaziz University in Jeddah, Saudi Arabia. He continued his training as an oral and maxillofacial surgery resident at Jackson Memorial Hospital in Miami, Florida, from 2012-2016. Dr. Marwan remained at Jackson Memorial Hospital from 2016-2018 as a surgical fellow in head and neck tumor and microvascular reconstruction surgery.
Dr. Marwan is a fellow of several national and international scientific societies, including the American College of Surgeons and the American College of Oral and Maxillofacial Surgery. His areas of research interest include oral, head, and neck cancer and reconstruction as well as cranio-maxillofacial trauma.
Medical/Professional School:
King Abdulaziz University - Jeddah, Saudi Arabia, DDS, 2010
Residencies:
Oral Maxillofacial, Jackson Memorial Hospital, University of Miami - Miami, Florida, 2016
Fellowships:
Head & Neck Oncology & Microvascular Surgery, Jackson Memorial Hospital, University of Miami - Miami, Florida, 2018
1600 W. League City Parkway Suite A
League City, TX 77573
Fax: (832) 632-5221
1005 Harborside Drive 5th Floor
Galveston, TX 77555
Fax: (409) 772-4456