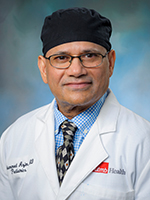 Dr. Mohammad Fouad Azim is a Board-Certified Pediatrician (2010). He completed his Pediatrics Residency at the University of Texas Medical Branch in Galveston.
He adores children and considers himself both fortunate and blessed to take care of the youngest Texans. A parent himself, he understands the importance of addressing parental concerns about all aspects of their child's health.
Dr. Azim comes from a family of over thirty physicians. He is single and enjoys various hobbies including photography and writing. His coming of age novel "Becoming" was published in 2017 and has received rave reviews from professional book reviewers and the reading public.
No education and certification details to display
UTMB Health Pediatric and Adult Primary Care - Clear Lake Campus
250 Blossom Street Suite 400
Webster, TX 77598
Fax: (832) 632-2670
---
Why do some providers have no ratings?
A provider may have no ratings for several reasons. A provider's ratings are only posted when she/he has a minimum of 30 completed surveys within the past twelve months. New-to-UTMB providers or individuals in less common areas of practice may be temporarily under this threshold. Also, the UTMB Health provider directory includes listings for independent community physicians and other health care providers who serve patients in our facilities. Ratings for these individuals, who are part of their own private practices, are not currently available to us.
Read more about Ratings and Comments