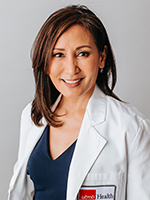 Dr. Thint has been residing in Clear Lake/Friendswood area since 1994. She began her medical profession after completing her medical school in her home town, Yangon, Myanmar, in 1984. After moving to the United States, she completed her pediatric residency program at St. Agnes Hospital in Baltimore, MD (1992) and Pediatric Infectious Diseases Fellowship with the Children's National Medical Center and the Food and Drug Administration in Washington, DC (1994). Her first job was Assistant Clinical Professor position at University of Texas Medical Branch (UTMB) (1994-1996). She was responsible for teaching and research as well as taking care of both inpatients and outpatients. Her areas of interest and research were in middle ear infections.
Dr. Thint continued to see pediatric patients after she joined MacGregor Medical Group, a large multi-specialty group and continued pediatric clinical research from 1996-2002. The next adventure was a position as a pediatric hospitalist for four local hospitals in the Clear Lake/Pasadena area (Bayshore Medical Center, Clearlake Regional Hospital, SE Memorial Hospital and Mainland Medical Center) from 2002-2007. She then joined Texas Children's Pediatrics for over 10 years (2007-2017) as a general pediatrician.
She now comes back to a full circle and is very excited to be with UTMB again to care for your children. She is a board certified pediatrician and a mom. And she believes that listening to you is very important and that team work with you is very essential. This way she can strive her best to successfully keep your children at their highest quality of physical, emotional and social health.
Residencies:
General Pediatrics, St. Agnes Hospital - Baltimore, Maryland, 1989-1992
Fellowships:
Infectious Diseases, Department of Infectious Diseases, Children's National Medical Center - Washington, D.C. , 1992-1994
---
Certifications:
American Board of Pediatrics, Pediatrics
UTMB Health Pediatric and Adult Primary Care - Clear Lake Campus
250 Blossom Street Suite 400
Webster, TX 77598
Fax: (832) 632-2670
---
Why do some providers have no ratings?
A provider may have no ratings for several reasons. A provider's ratings are only posted when she/he has a minimum of 30 completed surveys within the past twelve months. New-to-UTMB providers or individuals in less common areas of practice may be temporarily under this threshold. Also, the UTMB Health provider directory includes listings for independent community physicians and other health care providers who serve patients in our facilities. Ratings for these individuals, who are part of their own private practices, are not currently available to us.
Read more about Ratings and Comments