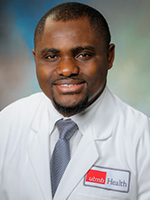 Dr. Edemekong is proud to serve in a broad scope of Family and Preventive Medicine. He has been practicing in the urgent care, preventive and family medicine settings and enjoys being able to provide holistic care to his patients.
He has numerous publications and has provided multiple presentations in his career at both a macro level with the CDC and micro level with small workshops and lectures. Dr. Edemekong has a passion for being involved in community education and has dedicated himself to medical missions on an annual basis. Dr. Edemekong offers an ability to serve his patients with a truly integrative approach.
Dr. Edemekong offers Primary Health Care, HIV Medicine, Preventive Medicine and Occupational Medicine. With a background in Family Medicine and completed training in Preventive Medicine, Dr. Edemekong has experience working with at-risk patient populations. His passion continues in areas of Clinical Preventive Medicine, Global Healthcare, Acute Disease Epidemiology (HIV, TB, Hepatitis, STIs) and Health Disparities as well as Maternal-Fetal Healthcare.
He offers basic and routine health care needs with a sensitive and unbiased approach for preventive care, physical exams, and Infectious disease treatment. He promotes health equity by striving to eliminate preventable diseases and educating my patients regarding healthy behaviors across all life stages.

 Provider is LGBTQ Responsive
Medical/Professional School:
Windsor University School of Medicine - St. Kitts & Nevis, MD, 2012
Walden University - Minneapolis, MN, Masters of Public Health (MPH)
University of Houston, Downtown - Houston, TX, BS - Psychology
Residencies:
Nova Southeastern University, College of Osteopathic Medicine - West Palm Beach, FL, Preventive Medicine and Public Health, 2019
CHI Health - Creighton University Medical Center - Omaha, NE, Family Medicine, 2016
---
Certifications:
American Academy of HIV Medicine,
National Registry of Certified Medical Examiners,
146 East Hospital Drive Suite 205
Angleton, TX 77515
Fax: (979) 864-3054